FBA operates at all the scales of architecture, from the concept design to the technical drawings and building phases.

FBA is a practice of architecture based in Rome - Italy, with a comprehensive portfolio that ranges from urban planning, housing, office and cultural buildings to fully detailed interior design. The office operates from the central idea that good design creates space in which the user feels welcome, respected and challenged. We are specialized in translating complex programs into an optimal design.
Poltu Quatu Touristic Harbour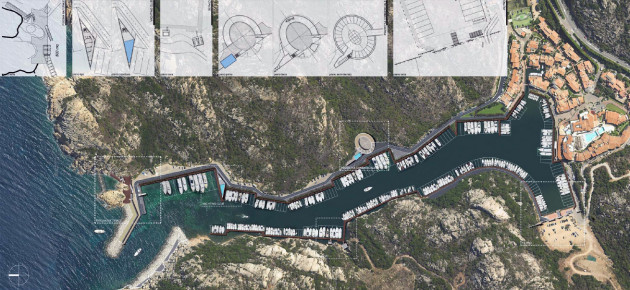 Il progetto di riorganizzazione del piccolo porto turistico a nord della Sardegna, prevede una serie di micro-interventi inseriti nel contesto ambientale del porto esistente, riducendo al minimo indispensabile l'impatto sull'ambiente.
Il linguaggio architettonico che proponiamo nasce da una serie di considerazioni fatte dall'analisi del contesto Sardo e delle sue tradizioni; si è fatto riferimento alle immagini che si legano istintivamente con la Sardegna: i muri a secco che costellano le campagne che adottiamo come attacco a terra degli edifici e l'arte tradizionale del merletto, che proponiamo per i pannelli frangisole, scorrevoli, di facciata; sono due immagini che si legano immediatamente alla tradizione locale ma rivisitate in ottica contemporanea e che, uniti assieme, offrono un prodotto finale raffinato e ben inserito nel contesto.
Location:        	Poltu Qualtu, (SS) Italy
Client:     		3C+T
Project:    	F. Barilari (FBA) + P. F. Capolei, (3C+T)


Date:               2010